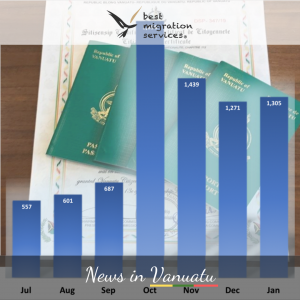 Government coffers are bulging with money as passport revenues rise to new heights.
Over VT 1.3 billion in passport-related revenues were received in January alone, according to the government's latest financial report.
The number of passports sold each month more than doubled from September to October last year, and have remained at nearly that level ever since. Based on official revenue figures and current passport prices, the Daily Post estimates that over 1,800 passports were issued to people via Vanuatu's various citizenship by investment programmes in 2018.
Much of that has happened in the second half of the year. Revenues equivalent to about 1,300 sales were reported in the six months between July 2018 and the end of January this year.
On average, five new citizens were added every day last year. In the six months between July and January, that number rises to seven. October 2018 saw the great level of activity, with an average of nine new passports awarded every day, or twelve every working day.
Revenues are generally not broken down into detailed figures in the Department of Finance and Treasury's monthly financial reports. But the January 2018 report includes the following paragraph:
"Vanuatu Development Support Program (VDSP) and Vanuatu Contribution Program (VCP), together collected VT 1,098.4 million in January. This is 254.1 per cent more than the forecast figure of VT 241.9 million, and makes up 24.4 per cent of the annual budget target of VT 4,504.6 million and is 31.8 per cent more than VT 833.1 million collected during the same period last year".
DoFT has generally issued very conservative revenue projections from passport programmes, apparently as a means of curtailing expectations and keeping complacency to a minimum.
Nonetheless, recent figures are exceeding these estimates by a larger margin than ever before.
One cause for concern is that the record revenues will lead to reliance on passport income. This would be a problem, because the majority of passport sales originate from mainland China. The acquisition of dual citizenship by Chinese is a legal grey area. Article 3 of China's Nationality Law does not recognise dual nationality with any other country. There are however no laws penalising people who obtain citizenship outside of China.
While travel from China has increased in recent years, it is still quite low. In 2017, just over 3,600 people travelled from China to Vanuatu. The numbers in 2018 were similar.
The appeal of Vanuatu citizenship seems to be more for the visa-free access it provides to European Union countries.
Citizenship by investment has been the subject of controversy from the beginning. Many Ni Vanuatu express reservations—and outright opposition—concerning the idea of selling citizenship. Others have questioned the processes governing the sale of passports.
One long-standing court case questions the means by which the current passport schemes were created. Vanuatu is nearly unique in this regard. Most nations have only one approved means of acquiring citizenship by investment, but this country has several.
Concerns have been raised on numerous occasions about the sustainability of these cash inflows. While the government has shown considerable restraint in its handling of the funds, a few worrying signs are emerging that attitudes may be changing. Overall spending has risen considerably every year since the programmes began, and both the 2018 and 2019 budgets have reached record highs.
In 2018, a record VT 24.6 billion was set out in the budget. But nearly VT 6 billion more than that was ultimately allocated in a pair of supplementary appropriations. Supplementary spending is not subject to the same rigorous vetting that normal budget appropriations undergo.
It is understood that several big ticket projects are now under consideration. One is a VT 4.4. billion Pentecost road project providing 42 km of tar-sealed roadway running from Melsisi to Pangi. A May 2018 cost-benefit analysis prepared by the Ministry of Finance states that Vanuatu's external debt levels are reaching unacceptably high levels. The analysis concludes that the "source of funding needs to be funded domestically given high external loan borrowing repayment after 2020."
The Daily Post understands that the government of Vanuatu well over VT 6 billion in cash reserves. Its operating surplus in 2018 was in excess of VT 8 billion.