ITIZENSHIP BY INVESTMENT PROGRAMME
The Malta Citizenship by Investment Programme (IIP), attracts investors to Malta. The Programme was launched by the Government of Malta in 2014 and is capped at 1,800 applications
Some of the benefits include:
Right to reside and work in the 2nd safest country in the world (World Risk Report, 2016);
Citizenship of a well-respected, economically stable and politically stable EU country;
Right of establishment in all EU countries and Switzerland;
Right to own a second home in Malta; and
Ownership of the 5th ranked passport in the World allowing visa-free access to more than 183 countries including the US, Canada and Australia.
Obtain a European Union (EU) passport through the Malta citizenship by investment program and access a world of benefits with the opportunity to settle in any of the EU member states.
Not only will you be the citizen of a well-respected country of the European Union, you will also automatically be a citizen of the EU and enjoy all the benefits available to EU nationals.
You will be able to do visa-free travel to more than 152 countries and territories, including the United States, Canada, the entire EU and the Schengen Area as well as have the opportunity to settle in any one of the 28 EU member states and Switzerland. Your children will receive free education or discounted rates at schools and universities across the EU.
During the first year of the Malta citizenship application you will have the right to reside in any Schengen Countries for up to 6 months as soon as your Malta residence card is obtained. Furthermore, there is no minimum residency requirement to obtain Malta passport or citizenship.
It offers citizenship in an EU Member State that is stable, neutral and highly respected. It is an efficient application process with the world's strictest due diligence standards and vetting of applicants thus ensuring only highly respectable clients will be admitted.
The Malta Citizenship program was launched by the Maltase Government in 2014.
Process Flow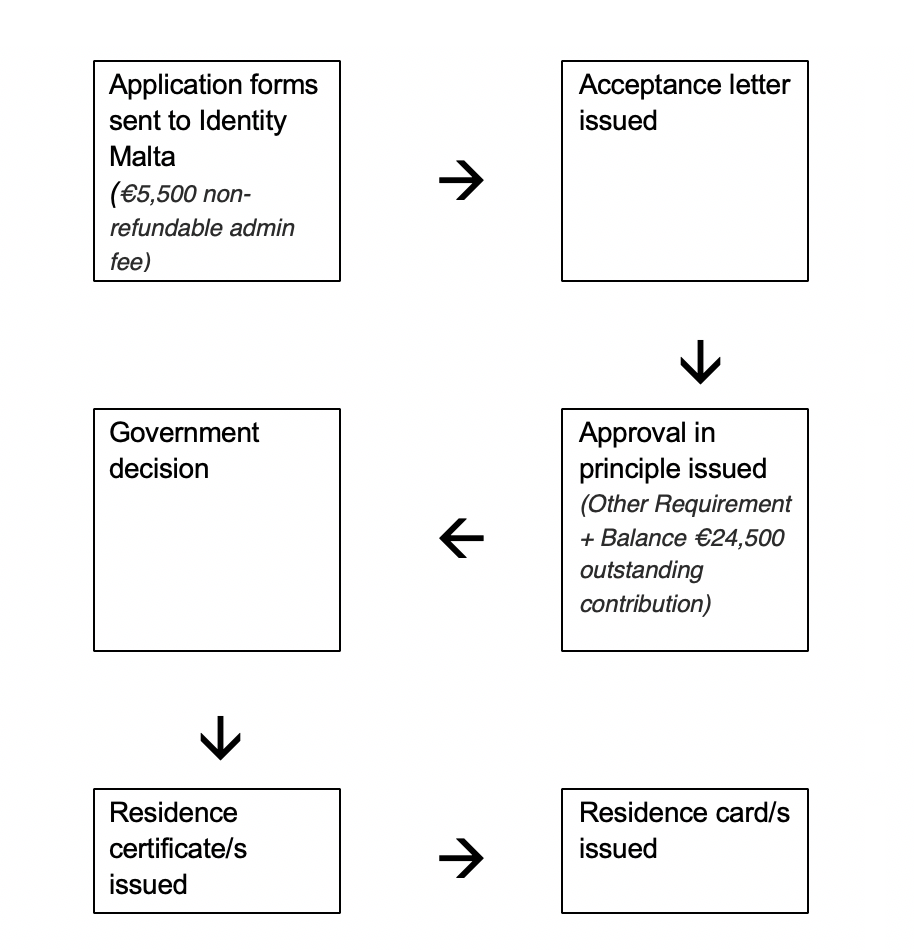 Summary
| | |
| --- | --- |
| Timeframe: | 12-13 months |
| Malta Citizenship Visa Free Countries: | Travel freely to over 152 countries including United States, Canada and the entire European Union. |
| Type of Investment: | Government Contribution |
| Cost of Investment: | Government contribution of €650,000 EUR for the main applicant and €25,000 for spouse and children under 18 years of age. Your dependent children up to 27 years of age are also eligible to apply. In addition, €150,000 to be invested in Government Bonds for 5 years and a rental of a property for 5 years at a minimum or €16,000 OR a purchase of a property of €350,000 to be held for 5 years |