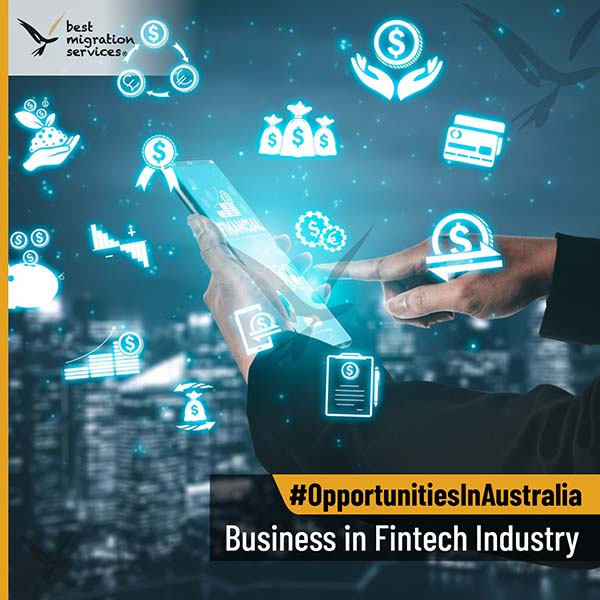 Australia is the hub of technological advancements and innovation. From automated vending machines to smart gates at airports and train terminus, Australia is the pioneer of many technologies in this age of global digitization. This has been made possible by the Australian Government's resolve to digitize the economy and deploy IoT (Internet of Things) throughout the country to make life easier for Australians.
These developments and a sustainable technologically advanced environment has also helped the financial industry in the country to come up with more user-friendly solutions. Financial technology is also termed as FinTech. The term FinTech encompasses new mechanisms that are undertaken by companies to let users pay money, send money, borrow, lend and invest without having to go through heaps of paperwork or any bureaucratic red tape. For instance, any digital wallet that stores cryptocurrency has the utility of being used for payments and subscription. This is a classic example of FinTech into practice. Similarly, there are mobile apps that lend you money directly after verifying your credit history within 5 minutes. There are virtually limitless options when it comes to FinTech. In fact, some financial experts also consider NFC payments as financial technology although many do disagree with that.
The most common example of Fintech is that of PayPal. PayPal is perhaps one of the most successful Fintech company that operates on a global scale. What gap did PayPal fill? It basically became a gatekeeper for online transactions so that the buyer and the seller of services, commodities etc were sure that their transaction was secure. Launching as a standalone digital wallet, PayPal now can be used for business and personal payments and has integration of escrow feature as well as the ability to directly connect bank accounts and credit cards. Since the listing of PayPal in NYSE, there have not been many bad days since its IPO. In fact, in 2002, the IPO was able to scoop $61 million which, at that time, was a sizeable collection a for tech-based company.
According to Fintech Australia, Australia has one of the world's most exciting and dynamic fintech industries. The sector is flourishing and has over 800 fintech companies based all over Australia. In fact, the Australian fintech industry is estimated to grow to $4 billion by the end of 2020. Australia is situated at the doorstep of Asia, which is increasingly becoming home to the world's economic centre of gravity. This makes Australia a great location for companies wanting to establish their Asian regional headquarters. Australian fintech companies are also keen to explore opportunities to grow into international markets, including through forming partnerships with overseas FinTech. The majority of Australian fintech firms are founded or led by experienced financial services professionals, who are passionate about finding new ways to deliver financial services to the benefit of customers. Fintech companies provide a diverse range of product offerings for businesses and retail consumers internationally.
Here are some quick facts about the Australian Fintech Industry
Australian FinTech sector experienced a 480% growth rate from 2014 to 2017 and has experienced stable growth since.
In 2016 alone, $US675 million was invested in Australian FinTech across 25 deals.
Between 2014 and 2016, Australian city Sydney received $US171 million in FinTech-related venture capital, more than anywhere else in Australia.
Australian FinTech venture capital firms have grown by 150% since 2014.
Here are some of the benefits of investing in the Australian Fintech industry:
The Fintech industry in Australia is regulated and this gives the investor peace of mind and lessens the risks involved with such investment.
Many Fintech Start-ups from Australia achieved their breakeven within first few months of operations.
Financial Technology is a sector that has no depletion stigma attached to it. The core of all Fintech entities is the connectivity to the internet. Until internet is there, the Fintech will be there to serve the users.
The Federal and Territorial Governments of Australia encourage Fintech integration and have allowed various flexibilities to companies working in this field.
Australia is open and is welcoming investors and businesses. If you are a FinTech entrepreneur, then Australia is the right place to start building and developing your app. If you are a venture capitalist, then Australia already has 800+ Fintech based businesses, and many are in the phase of launching and seed funding. You can leverage the Australian Fintech industry according to your business acumen to enjoy profitable yields from your investments. You can click here to access the official Australian Treasury Website to check the various benefits and perks provided to the Fintech businesses and investors.
BMS is an Australian owned and operated company that provides business consultation to migrations agents, consultants and lawyers regarding setting up a business, running it and scaling it. The team at BMS has more than 17 years of experience with a portfolio of successful businesses that were given consultation and built from scratch. BMS Australia provides consultation in the following migration consultancy fields – but not limited to:
Turnkey Migration settlement services and Migration Business Setup
Advice on CRM selection, deployment and integration
Sales and Marketing strategies for businesses and immigration consultants
Lead Generation & Customer onboarding
Accounting and Cashflow strategies
Documentation & Application Lodgement
Appeal Lodgement Training and Consultation
Customizing Complex Applications
If you would like BMS Australia to guide and consult you for succeeding in your business venture, then please click please click here or call +61499903263.