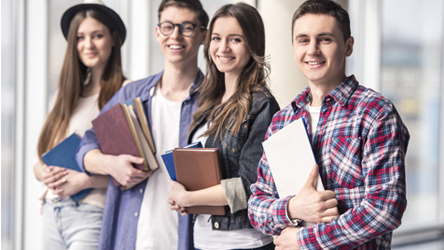 AUSTRALIAN CULTURE
You will probably notice some lifestyle differences between Australia and your home country. Here are some insights into Australian culture:
Australians are quite casual and informal. For example, most Australian students refer to their lecturers and tutors by their first names.
Australians expect everyone to be treated equally. It is customary to thank shop assistants and other service staff when they assist you.
It is important to be on time in Australia — it is polite to call if you are going to be late for an appointment.
Smoking is not permitted in restaurants, bars, nightclubs and many other public covered areas, such as train stations.
Littering is prohibited, as is drinking alcohol in a public place.
Most Australians will be happy to help you if you're unsure of something.
LIVING COSTS
Your living costs will vary according to factors such as your lifestyle and location. To give you an idea of what you might expect to spend on living expenses each week, the Australian Government has provided a guide:
Groceries and eating out: AUD$80 to $280 per week
Gas and electricity: AUD$35 to $140 per week
Phone and internet: AUD$20 to $55 per week
Public transport: AUD$15 to $55 per week
Car (after purchase): AUD$150 to $260 per week
Entertainment: AUD$80 to $150 per week
Typically the capital cities have the highest living costs, with the biggest cities — Sydney and Melbourne — usually being at the upper end of the spectrum and smaller cities such as Adelaide and Hobart being the cheapest.
Cost estimates were sourced from the Australian Government's Study in Australia website in 2016.
SAFETY
Australia is a diverse and multicultural country. It is extremely welcoming towards international students and migrants, and celebrates the various cultures from which they come. With that said, as with many other countries around the world, Australia is not free from crime. There are certain methods that you can use to avoid being placed in vulnerable situations — tactics that can not only be used in Australia, but also around the world:
Know the emergency number for the emergency services (ambulance, fire brigade and police) in Australia: 000.
Know the emergency and non-emergency numbers for the campus security office.
Know where the emergency phones are located on campus.
Attend any seminars on crime prevention that your institution offers.
Use campus patrol or evening escort programs that accompany students from one campus location to another.
Always let someone know where you are going and when you plan to return. Walk with a friend when possible.
Stay in well-lit areas at night and avoid shortcuts through secluded areas, such as alleys or parks.
If you like jogging or walking for exercise try to do it during the day.
If you wear headphones while walking or jogging, keep the volume low so that you remain aware of your surroundings.
Always keep your doors locked in the car and at home, and place valuables under the seat or in the boot of your car.
If you take public transport at night, try to sit close to the driver or in the first carriage of the train.
The Australian Government has established a student hotline for international students who are concerned about their welfare: 1300 363 079. If immediate emergency assistance is required, the best thing to do is call the Australian emergency telephone number: 000.