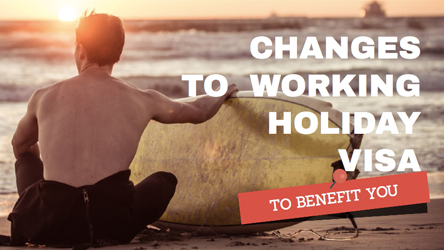 Work and Holiday visas changed on 19 November 2016 as part of the Government's commitment in the 2015 White Paper on Developing Northern Australia.
If you're a Work and Holiday (Subclass 462) visa holder, you now have the opportunity to get a second 12-month visa. This applies if you work for three months in the tourism and hospitality or agriculture, forestry, and fishing industries in northern Australia while on your first visa. This new opportunity encourages Work and Holiday visa holders to spend time living and working in Australia's north.
The change will only apply to specified work undertaken from 19 November 2016 in northern Australia, which broadly includes all of the Northern Territory and those parts of Western Australia and Queensland above the Tropic of Capricorn.
All specified work has to be paid work in accordance with Australia's workplace laws. If you're considering applying, you'll need to provide evidence of this payment. There are 16 countries that have active Work and Holiday visa arrangements with Australia, including the United States, Chile, Indonesia and China. The Work and Holiday visa programme continues to grow, and the Government continues to negotiate additional Work and Holiday visa arrangements with new partner countries.
Visit www.border.gov.au/Trav/Visa to learn more.